Celebrating 100 Years of Care at Sunnyside Manor
When you walk through the bright, sun-filled hallways at Sunnyside Manor and peek into the state-of-the-art gym, it is hard to believe that the history of this modern community goes back over 100 years. The name Sunnyside has become synonymous with excellent care in the area, and carries a legacy of people inspired to make a positive impact on their communities.
A Foundation of Care
Long before "Sunnyside" was a premier senior living community owned and operated by the Keane family, it was a farm that showed great promise for two enterprising women. Sarah Switzer and her sister Margaret were hard-working, frugal women, who won acclaim for their skills as seamstresses in New York. They carefully invested their earnings, and eventually amassed funds to create a safe, respectable boarding home – a rarity in those days – for young women like them, who came to New York to work in shops and factories.
Sarah Switzer saw the needs of the women living at her boarding home, and in 1913 she purchased Sunnyside Farms in Manasquan as a vacation area for them. After just a few years, she recognized that they needed more. In 1919, she converted the farm to a place for young women to recover from illness and overwork and named it "The Margaret and Sarah Switzer Foundation For Girls – Rest Cure at Sunnyside Farms."
The Move to Elder Care
The next iteration of "Sunnyside" was the conversion of Sunnyside Farms to a nursing home in 1957. Upper Manasquan River, Inc., a group of health care personnel, acquired Sunnyside Farms and renamed it "Sunnyside Farms Nursing and Convalescent Home." The property operated as a traditional nursing home (changing ownership again in 1977) until it was acquired by the Keane family in 1991.
The Keane Family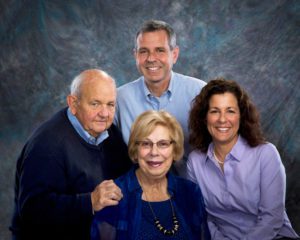 Inspired to make a positive impact on the local community and the senior living industry, John Keane, a hospital administrator, and Lucia Keane, a social worker, acquired Sunnyside in 1991. They renamed the property "Sunnyside Manor." The Keanes worked side-by-side to upgrade and expand Sunnyside Manor into a modern, welcoming community. Modernization of the original building included adding an elevator and additional rooms and bathrooms.
John and Lucia's daughters MaryEllen and Kathy both worked alongside their parents. After some time, Kathy stepped away to be an at-home parent full time. MaryEllen continued at Sunnyside Manor. As administrator, MaryEllen routinely earns the prestigious Eli Pick leadership award for Sunnyside Manor.
As Sunnyside Manor gained acclaim in the area, it was clear to the Keanes that they would need to grow the community again. As early as 1995, the Keane family foresaw that Sunnyside Manor would have a major expansion. That vision came to fruition in 2015 with the construction of a new, state-of-the-art senior living community with a continuum of care, including Independence 'Plus' Assisted Living, Recollections Memory Care, and Skilled Nursing. John Keane, Jr. came on board during the transition to the current location on Ridgewood Road in Wall.
The All New Sunnyside Manor
Built from the ground up with Keane family's experience and values, the all new Sunnyside Manor opened its doors in 2015. With great excitement, residents of Sunnyside Manor moved to their new home, enjoying top-notch amenities and stunning views of open, green space.
Mr. Keane attributes the success of Sunnyside Manor to its values as a family owned and operated community. "Our residents like that it's family owned and operated… the Keane family is very much involved and it's a very personal extension of who we are and how we treat people. Our family values have been extended to all our staff."
Celebrating 100 Years and Looking Ahead
The Keane family continues to seek out new ways to enrich their community. Mr. Keane remarks, "We are constantly exploring ways to stay ahead of the industry and to bring new ideas to Sunnyside that will enhance the everyday life and wellbeing of our residents."
The all new Sunnyside Manor has been celebrating its 100th anniversary throughout 2019 with a slate of activities for family and friends.
Learn More About Sunnyside Manor
Learn more about Sunnyside Manor's resources for caregivers. Whether you're looking for short-term support or a longer-term plan, we are here to help. Begin with our "Getting Started" guide, or call us at 888-696-2052 to speak with a senior living expert.
The all new Sunnyside Manor, located in Wall NJ, is the area's premier senior living community. It features three distinctive neighborhoods: Independence 'Plus' Assisted Living, Recollections Memory Care and Skilled Nursing.