Say Hello to the Sunnyside Siblings!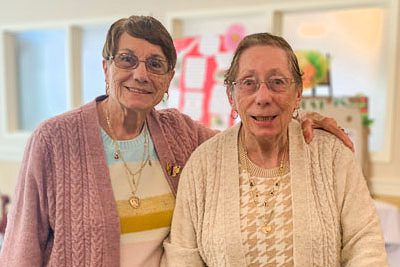 Get to know Sunnyside Manor's three sets of siblings.
Sunnyside Manor has always been a place that families call "home," and today our community is home to three sets of siblings! Our community is led by siblings, too: co-owners John Keane and MaryEllen Keane, who are continuing their family's legacy of care.
Get to know…
The Salvemini Sisters
The Salvemini sisters are inseparable. They enjoy live entertainment together at Sunnyside Manor, and enjoy that they "don't have to worry about cooking!"


"We do everything together, we have always lived together, and our family is close to Sunnyside, too."
Frank, Edwin, and Vivian
Frank, Edwin, and Vivian live together at Sunnyside Manor and enjoy visits from their extended family. Frank is well known in the community for his piano playing and outgoing personality. He made himself at home at Sunnyside Manor first, then encouraged Edwin and Vivian to join him!
"It's a nice atmosphere. We've been to a lot of places, and this is the biggest and nicest."
Learn more about Frank's incredible story of recovery.
Elmer and Pat
Pat loves to socialize and join clubs, while Elmer enjoys mealtimes most. The brother and sister duo are happy to share their experiences together.
"After touring the community, our family said, 'This is the one.' We encourage everyone to come to Sunnyside and make sure to stop and listen to everyone's stories. There's a lot of history here!"
Co-Owners of Sunnyside Manor, John Keane and MaryEllen Keane
Family owned and operated with a 100+ year legacy of care, today Sunnyside Manor is led by siblings John and MaryEllen Keane.
"From the beginning, Sunnyside has stood for family. Family traditions, residents and staff that have become family, and continuing the legacy of our father, John F. Keane, the founder of Sunnyside Manor."
Learn More About Why Families Rely On Sunnyside Manor
When you have questions about senior living, we are here to help. Sunnyside Manor offers assisted living, memory care, and skilled nursing and rehabilitation. Learn more about Sunnyside Manor's resources for caregivers. Whether you're looking for short-term support or a longer-term plan, begin with our "Getting Started" guide. Please call us at 888-696-2052 to speak with a senior living expert.
Sunnyside Manor, located in Wall NJ, is the area's premier family-owned senior living community. The community features three distinctive neighborhoods: Independence 'Plus' Assisted Living, Recollections Memory Care, and Skilled Nursing and Rehabilitation.