What's the one thing families should know about memory care?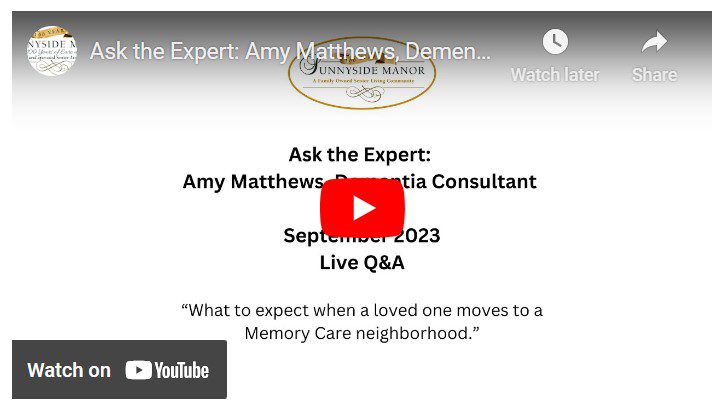 Watch our exclusive interview with Amy Matthews, the "expert's expert" on Alzheimer's and dementia.
We asked Alzheimer's and dementia expert Amy Matthews: What is the one piece of advice you'd give to families seeking memory care for a loved one?
Amy is the "expert's expert," a consultant and coach to families and professionals, with over 30 years of experience working exclusively in the field of Alzheimer's and dementia. Watch our chat with Amy, as she pulls back the curtain on expectations versus reality, and the one thing families should know when considering memory care.
Watch our interview and learn:
What are the best questions to ask when choosing a memory care community?
How do you have a meaningful visit with someone with dementia, whether at home or in a memory care community?
What is the one thing families should know about memory care?
"It's not about frequency or intensity of a visit. When somebody has a memory loss disorder, they are very much in the moment. So, the meaning of any visit is the moment you're in it." – Amy Matthews
About Amy
Amy has worked exclusively in the field of Alzheimer's and related dementia disorders for the past 30 years. Her experience ranges from Adult Day Care and Home Health to working as the original Activity Director in the very first dementia specific assisted living in the country and later as Executive Director opening a building in West Orange NJ. Ms. Matthews also worked for the Alzheimer's Association, Greater New Jersey Chapter for 14 years providing both professional and community education and training.
Amy currently specializes in professional training and community education. She also provides consulting with professionals and families on best practices and helping them create a plan of care for the future. Amy was also a caregiver for her Grandmother who had Vascular Dementia and considers this her greatest experience in terms of understanding how these diseases affect families and how families reach out and interact with professionals.
Learn More About Why Families Rely On Sunnyside Manor
When you have questions about senior living, we are here to help. Sunnyside Manor offers assisted living, memory care, and skilled nursing and rehabilitation. Learn more about Sunnyside Manor's resources for caregivers. Whether you're looking for short-term support or a longer-term plan, begin with our "Getting Started" guide. Please call us at 888-696-2052 to speak with a senior living expert.
Sunnyside Manor, located in Wall NJ, is the area's premier family-owned senior living community. The community features three distinctive neighborhoods: Independence 'Plus' Assisted Living, Recollections Memory Care, and Skilled Nursing and Rehabilitation.