How to Choose a Short Term Rehabilitation Center
Learn the three step process for making an informed decision.
If your situation is urgent: please call us at 848-246-6027 to connect with our admissions coordinator. Skilled Nursing & Rehabilitation at Sunnyside Manor coordinates admissions 24/7, works with all area hospitals, and accepts most major insurances.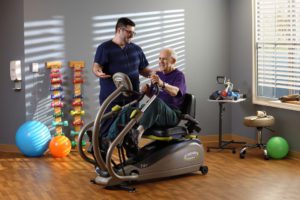 After a hospital stay for an illness, injury, or surgery, a physician may recommend recovery time in a short term rehabilitation center.
Finding the right place for recovery after a hospital stay is one of many complex decisions seniors and their families face during an already stressful time. So, how do you make the best choice, and how do you get started?
Having the right information and a solid plan helps. Read on to learn more about what short term rehabilitation means, and the three-step process for choosing a short term rehabilitation center.
What is short term rehabilitation? And why is it usually in a skilled nursing center?
Short term rehabilitation refers to therapies ordered by a physician to help a senior regain strength after illness, injury, or surgery. This usually includes a combination of therapies, such as physical therapy, occupational therapy, and speech therapy.
Short term rehabilitation often occurs in a skilled nursing care center because rehabilitation and skilled nursing services can overlap. For example, someone undergoing therapy to regain strength after a major stroke may also require the medical supervision and medication monitoring that a skilled nursing center provides. Learn more about how skilled nursing and rehabilitation overlap (and how they're different) here.
How to Get Started: Choosing A Short Term Rehabilitation Center
There are three steps to choosing a short term rehabilitation center: information gathering, making a "short list," and visiting.
Step One: Information Gathering
To get started, gather information about your loved one, as well as a list of short term rehabilitation centers nearby.
Information about your loved one includes:
The procedure they are having (or just had)
Other medical conditions for which they receive treatment
The date they are expected to leave the hospital
Insurance information, including long term care insurance and MediGap or supplemental insurance
Information about short term rehabilitation centers nearby may come from:
A list from a hospital discharge planner or social worker
Recommendations from friends, family, and your loved one's physician
A quick internet search for short term rehabilitation centers near you with favorable reviews – both user reviews and the Medicare star rating. (Sunnyside Manor's Skilled Nursing & Rehabilitation Neighborhood has a five-star rating.)
Learn the essential skilled nursing and rehabilitation terms you need to know here. Understanding the language of short term rehabilitation can help you make informed decisions and communicate with health care providers.
Step Two: Make a "Short List"
The next step is to narrow down your list to places you'd like to visit and tour. This is the time to do research online, over the phone, or by email.
Online, you'll most often be able to find a center's:
When you call or email, you'll connect with an admissions coordinator, who will ask questions about your loved one and their situation. This is the time to ask about rates, insurance, and availability, as well as the next steps. And, if your situation is urgent, ask how quickly they can coordinate admission.
Step Three: Visit and Tour
The visit and tour are where big questions get answered, like whether the center feels welcoming and safe, and whether your loved one will thrive there.
During a tour, you'll see the skilled nursing and rehabilitation center and see how staff interact with residents. You'll also have an opportunity to talk with the admissions coordinator and learn more about the community.
The admissions coordinator should be open to answering questions about the community's success rates, management, and leadership. You can ask questions about staff ratios, how long the community has been in operation, and how long the leadership has been in place, as well as specific questions about treatment.
They'll also be able to outline step-by-step what happens next to assure a smooth transition from the hospital to rehabilitation, and eventually back to home.
Based on the information you've gathered and your impressions on the tour, you can make an informed decision about your loved one's care.
Looking for more information about skilled nursing and rehabilitation? Start here:
Learn More About Why Families Rely On Sunnyside Manor
When you have questions about senior living, we are here to help. Sunnyside Manor offers assisted living, memory care, and skilled nursing and rehabilitation. Learn more about Sunnyside Manor's resources for caregivers. Whether you're looking for short-term support or a longer-term plan, begin with our "Getting Started" guide. Please call us at 888-696-2052 to speak with a senior living expert.
Sunnyside Manor, located in Wall NJ, is the area's premier family-owned senior living community. The community features three distinctive neighborhoods: Independence 'Plus' Assisted Living, Recollections Memory Care, and Skilled Nursing and Rehabilitation.